CLEARANCE Genuine Freelander Rover K-Series Cylinder Head LDF109380L RRP £1,102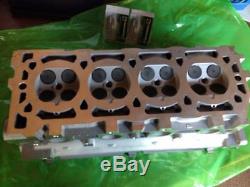 CLEARANCE 1.8 / 1.6 / 1.4 Rover K-Series Petrol Cylinder Head BRAND NEW Genuine Land Rover Part No. These brand new genuine Land Rover Cylinder Heads fit any vehicle with the 1.8 / 1.6 / 1.4 K-Series 4 cylinder petrol engine, which includes.
PLEASE NOTE: These cylinder heads are NOT suitable for the 1.8 VVC engine. The heads come complete with all 16 valves and springs. They DO NOT come with cam shaft or the hydraulic lifters. These are auto belt tensioner heads which means you will need an auto tensioner and timing belt when you fit it. Even if your original head was a manual tensioner this head is still suitable provided you use the auto tensioner and timing belt.
HOW DO YOU KNOW YOU NEED A NEW CYLINDER HEAD? Generally you would only need a new cylinder head if your existing head is damaged or has failed a pressure test i.
There is a crack in the head. The main reason for these cylinder heads to require replacement or machining is due to a failed head gasket or excessive overheating issues. If you have removed your existing cylinder head from the engine block and intend to reuse it, the minimum amount of machining you will need to do is a skim (reface) and pressure test. Since these cylinder heads are made from aluminium, just the act of removing it from the engine block can cause some amount of warping. If your engine has significantly overheated, and you want to reuse your existing cylinder head, it may be better to completely recondition it. This is because the overheating can cause additional damage to the cylinder head, particularly to the valves and hydraulic lifters. If a cylinder head has been skimmed (refaced) previously the remaining surface of the head may not be enough for it to be skimmed (refaced) again. The process of skimming the head involves taking a thin layer of metal off the head to obtain a obtain a perfectly flat surface.
It is only possible to do this to a certain level until the head is no longer useable. It may be possible to use an extra thick saver shim to balance out some of the loss of height, however ultimately multiple skims with have an adverse effect on the cylinder head.
WHAT SHOULD YOU CHECK FOR WHEN YOU FIT YOUR NEW CYLINDER HEAD? When you fit your new cylinder head there are a couple of things you should check for in your engine, particularly with the cylinder liners.
Before putting your new cylinder head on check that the cylinder liners do not appear to have cracked. You would not be able to visually see a crack in the cylinder liner as any crack will only open up as the engine gets hot, however, signs of a crack in a liner can be seen if one particular cylinder is cleaner than the others (this happens because coolant is getting into the liner). If this is the case you will need to replace the cylinder liners.
We would recommend replacing all four liners, since one being compromised means the others will have also been seriously affected by the overheating. A symptom of cracked liners tend to be a lot of white smoke when you drive, not just when the engine is started (which is normal). If the cylinder liners do not appear to be cracked, check that they are still sat between 1 and 3 thousandths above the block. If the cylinder liners are flush with the block, or have sunk into the block, unfortunately your block will be scrap and you will need to replace it. WHAT ELSE SHOULD YOU REPLACE / DO WHEN YOU FIT YOUR NEW CYLINDER HEAD? When you fit your new cylinder head make sure you use a new modified multi layer steel head gasket (MMLS), if you replace it with an original single layer head gasket your head gasket will fail again at some time in the future. Ensure you use new head bolts when fitting your new cylinder head. The head bolts are stretch bolts and cannot be reused when they have been removed. Tighten the head bolts in the correct sequence to the correct torque.
If your vehicle had mixed oil in the coolant flush out the cooling system with a good flush, such as Forte Bio Degreaser and Cooling System Flush, this will clean out all the oil residues in the system. Make sure the coolant is flowing throughout the whole system. If the coolant mixed in the oil then flush the oil system out with a good flush, such as Forte Advanced Formula Motor Flush.
If your Freelander has overheated it is worth changing the water reservoir bottle cap, this can be compromised when put under excessive pressure. Check the reservoir bottle for cracks around the neck and replace if any are found. Always replace the reservoir bottle and cap with genuine Land Rover parts, the aftermarket parts do not seem to have the same reliability. GRAB YOURSELF A REAL BARGAIN. If you require further information, or would like your cylinder head fitted, please message us.
Collection from our workshop is welcome. If ordered before 09:30 UK customers will generally receive their item the next day. Most of the rest of the World will take between 2 and 5 days. In these circumstances the item must be in unused condition and exactly as received.
For reconditioned engines, we always recondition these to order and the process takes approximately 2 weeks. Please check the listing details for more information. As the name suggests, we specialise in Land Rover Freelander's, both the Freelander 1 and the Freelander 2.
We specialise in reconditioning the drivetrain units and the engines for all Freelanders. We also carry out repairs and servicing. Since the Freelander engines and drivetrains are used in some other makes of vehicles (for example the Rover, MG, Lotus, Volvo and Range Rover Evoque) we also recondition units for these vehicles.
We have been working on (almost) nothing but Freelander's for so many years now we like to think we are pretty good at it! Here are some things people have been saying about us: Thanks Sue and Norbert for rescuing me. My Freelander with it's'new' engine drives so well. I feel like I have a brand new car. I promise to look after it. Many thanks for your most excellent service, in both picking up the car and repairing it. I will certainly come to you again and recommend you to friends. Thank you for saving our lives. All went as planned and our gearbox replacement is installed and the car is once more on the road.
Thanks to our super cooperation on this problem the parts arrived in Greece within a week solving an outsize headache. It was a pleasure doing business with you. Hello Sue and Norbert Tried the rest and you are obviously the best, when it comes to Freelander knowledge.
Thank you for meeting us at the station, saw my cleaned and shiny car and your smile. We enjoyed meeting you, shame that Norbert was out on a call?
"Had a modified head gasket fitted over 3 months ago and the car has run really well ever since, sue and norbert are helpful and full of knowledge, i will be using them in the future and can't praise them enough". Their service was thorough and the car was brought back to fine running order. Sue & Roger, Algarve, Portugal. Sue it was so great to meet you and Nobert on Saturday and the car is running great! To say a big thank you so you can add to your already impressive testimonials page - your communication was first rate, the job was carried out quickly and cheaply compared to ANYWHERE else!
Yet professionally and all whilst we waited and were treated to a cup of tea and a friendly chat. We'll be back, but hopefully not too soon!! And large dogs, Sorry for the delay getting back to you both. I would like to thank you for the very proffessional service and Reconditioned Engine in my Rover Sterling. You worked on my Rover 25...
I'm really, really, really pleased and I can't thank you enough. Well, what can I say!
After a year of bad advice from various people we finally had the car fixed by Nobert and Sue. Replacement of IRD, VCU, Rear Diff and other work all because we were given incorrect advice initially for what turned out to be a wheel bearing which led us to replace all the above parts last year (recon parts), however it turns out that we were supplied some'iffy' parts which actually caused a problem that was never there before!
Having them all replaced again by Nobert with his expert knowledge is such a relief. Both Sue and Nobert are very ameniable, honest and hard working people. The car is going fantastically it will be a while before I stop expecting it to'clunk' mind you! But I can really enjoy the car again.
Thank you both very much and p. I'm glad I was able to hopefully solve a mystery for you (water in the boot)! Take care both of you.
Can you get to Norfolk? There is a little jewel of a Company there called FreelanderSpecialist, which you must look up. A replacement clutch, major overhaul of the front suspension.
New viscous coupling and thorough service... The car is restored to its former glory. Above all this though, I have to tell you about Sue and Norbert..
They are the heartbeat of the business. Whilst many companies may talk up the importance of customer service, these great people really "walk that talk". Nothing was too much trouble for them and their passion for Freelanders is quite infectious. A huge thank you to both of you!!
Once again I recommend you go that extra mile to visit them. I assure you they will go an extra 10miles for you and your Freelander. This company is almost 300 mile from my home. I took my Freelander to them in November 2011 for various works having tried a number of local companies who clearly didn't know the workings of a Freelander. The service and quality of work from this company was well worth the trip and i will be using them again for future works including servicing and MOT.
If you want the job done properly the use this company. "Many thanks Sue and Norbert, Having been misinformed by two separate and local mechanics that "without a shadow of a doubt my problem was a head gasket issue, we stumbled across the Freelander website and, reading sue's knowledgeable advice and the fantastic testimonial given, decided to give them a try. Sue and Norbert were the only ones to correctly diagnose a smaller-and therefore cheaper job than previously advised. The job was completed in a timely and professional manner, with Sue always on hand to answer any queries and give updates as required. Without a shadow of a doubt' we know where to come for all our Freelander requirements now! Sue and Norbert are both professional, knowledge, friendly and honest; a real rarity these days, especially in the motor mechanical field. We are so pleased to have discovered you via the website. I only hope this testimonial helps you to gain further extremely satisfied customers such as ourselves. I had been having a problem with my rattling Freelander for approx. It had been in two different local garages and both had failed to fix the problem despite me spending hundreds of pounds. Luckily i found Sue and Norbert on the internet and after exchanging several emails i was confident to drive the 3+ hours to Norfolk for them to look at my car. As a family we were also prepared to stay 2 nights in a local B & B to give them enough time to thoroughly check the car over. Thanks for all your help and the car now drives fantastic, just like it was when i bought it. Please don't have any doubts about traveling any distance to Freelander Specialist for them to fix your car because based on my experience......
Nice one Sue and Norbert. Anyone who buys a Freelander should immediately take it to Freelander Specialist. Nobert is the master chef of the Freelander, and Sue is front of house.
They unlike all the other so called " Specialists " know what they are doing, they do the job well and thoroughly and do not rip you off! Nobert has fitted a recon IRD box and front drive shaft and the vehicle seems smooth and with no tummy churning knocks or clicks. All Sue's comments on drive train issues are correct and Nobert is so thorough in his work it inspires total confidence, they know what they are doing.
Thanks to you both a pleasure to meet you, keep up the good work! Dear Sue and of course Norbert, Many thanks for the repair of my V6 2.5l Freelander. My wife's pride and Joy.
The courteous service by yourselves and the collection driver (Steve I think) showed the pride and passion you all have and was a breath of fresh air. I've only done a100 miles to bed the engine in so far but it is certainly a better car. I can't wait for my wife to see it again tomorrow when I drive back home. Many many thanks for the service and will certainly use you again when the time comes. After countless repeat failures you guys have brought my Freelander back to life!!
(she purred on the very first kick) Kudos to you Sue & Norbert Thanks so much. Was ready that day, done and dusted no bother. I had a quote from another place for 3000 quid for new diff etc. Thank you Sue and Norbert, I would highly recommend you to everybody with land rover problems. Sue and Norbert, Thank you so much for sorting out my dream car, which seemed to be turning into a nightmare, until we found you!!
Your customer service is second to none, not only in sorting out the car but also the little things that you did for us and'Beyoncé'I name all my cars! It's such a pleasure to meet such a trustworthy and honest garage service, which can be such a minefield. I would completely recommend you guys to anyone and a huge thank you for your time, service and sincerity with us.
John and Sally Wallace, Leicester. Myself my wife and my 3 children travelled up early morning we were welcomed by lovely sue who was so kind and friendly she offered us all a drink and let us chill out in her living room where she gave us so much advice.
We were offered a loan car whilst our car had work done to it which was going to take most of the day we really appreciate nobert carrying out the work in one day as other companies were telling us it was going to take at least 5 days. We had a lovely time with the kids at a park nearby when we came back sue offered us another drink and told us to have a rest and watch tv in her living room it was really nice of her as the kids were worn out and slept until the car was ready. Please if you want the best service and you live a distance from Norfolk I will highly recommend sue/nobert - they really are the most kind and friendly people you will ever meet, I personally have made two very good friends and I will not hesitate to visit them again if I have anymore problems with my freelander 2 sd4 2010. Thank you so much sue and nobert. Malik and Naeema - Bristol, August 2014.
This must be the best place in the UK to have work carried out on a Freelander. Having travelled 402 miles from Edinburgh to have transmission and clutch work carried out by FreelanderSpecialist I was delighted by the service I received. My vehicle was ready for collection as promised and I'm delighted with the work done. This is DEFINITELY the place to go for Freelander work.
Big thank you to Sue+Norbert. Well worth the 200+ mile round trip to have the front prop shaft replaced on my Mk 1 Freelander at very reasonable cost They also investigated a couple of other issues for us at no extra charge. Sue gave us lots of valuable freelander advice over a coffee in her sitting room during our short wait for the work to be completed. All in all my best motor trade experience ever, felt more like a day out with friends! In these days of electronic diagnosis, often undertaken by fitters, it's a welcome surprise to come across experts who thoroughly understand the workings and most importantly weaknesses of the vehicles in which they specialise.
Norbert and Sue of Freelander Specialists are such experts. Underscored by their prodigious work ethic, I find it extremely comforting to be able to drive away from their premises knowing that whatever has been done to either of my cars (Freelanders 1 and2) has been properly understood and dealt with. Despite the two hour drive to get there, I'll no longer cast about locally trying to find an establishment I can trust - it's straight up to Norfolk, because I know what I'm getting. Also, if it's a job to be completed in a day, nearby historic Ely is a very pleasant place in which to while away the time. "We fix it" - yes, they do!
Fantastic service I bought a vcu from them and they sent it straight to my garage for fitting. I also suspected the ird to be worn so they checked for me and it turned out to be a drive shaft which they fitted. Car is running great now thanks for all your advice and help. Sue, Was really good to see you both last week. I have to say that from the moment I left your premises I could notice a distinct improvement in performance from my car. Pull away from standing start was much swifter as was acceleration on kick down. However on top of that I've noticed a considerable improvement in MPG. After driving around Essex countryside for a couple of hours I was averaging 36.1mpg. I also had a run out to Heathrow and back and with the same sort of MPG. I think that definitely shows the value of having a proper service carried out! Hi Sue, I trust that youre keeping busy and that all is well with you and Norbert. I wanted to write and thank you both for the great job you did in helping me begin the renovation of my 18-year-old three-door 1.8K Freelander... The Freelander has run like a dream ever since. It feels like factory new and my subsequent journey from Brandon/Cambridge over to Manchester and then onward to SE London was entirely uneventful. Once again, I would like to say that I really appreciate your specialist expertise in association with what is a currently a relatively underrated Land Rover marquee and a true milestone motor vehicle. One that is certain to be a future classic. Keep up the great work and all the best. Thank you very much Sue and Nobert, this is like driving a new car: smoother, more economical (I think), and it's not cutting out. All the best to you both. Dear Sue and Norbert Thanks so much for fixing the haldex and rear diff issues on my F2.
Your detailed diagnosis, patient explanation, hospitality and kindness - and tremendous value - were very much appreciated. I have no hesitation in recommending you to anyone with Freelander problems. Amazing knowledge and expertise from you guys.
Brilliant service and superb support. To all freelander owners, contact Sue and Nobert, I can't recommend these wonderful guys enough!
Really enjoying my freelander again... Made of the right stuff! Christina, Northern Ireland, January 2017. Hi Sue & Nobert, Absolute Geniuses, wow I, m so glad I brought my freelander to yourselves, you love my car as much as I love it so nice to see. Please tell the lads Thank you aswell.
Will not take it anywhere else 10/10. Glenn Bleach, Cambridgeshire, September 2017.
We are located in Norfolk, midway between Cambridge and Norwich. Get Images that Make Supersized Seem Small. Tailor your auctions with Auctiva's. The item "CLEARANCE Genuine Freelander Rover K-Series Cylinder Head LDF109380L RRP £1,102" is in sale since Thursday, December 7, 2017. This item is in the category "Vehicle Parts & Accessories\Car Parts\Engines & Engine Parts\Cylinder Heads & Head Covers".
The seller is "squashedblackgorrilla" and is located in Thetford. This item can be shipped worldwide.
Brand: Land Rover
Manufacturer Part Number: LDF109380L
Bundle Listing: No
Classic Car Part: Yes
Unit Quantity: 1
Unit Type: Unit
Country/Region of Manufacture: United Kingdom
Brand Type: Genuine OEM