Fabulous 1972 Land Rover Series 3 Tax Exempt full MOT- READ THE DETAIL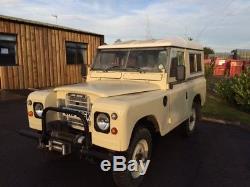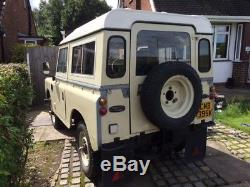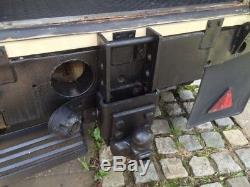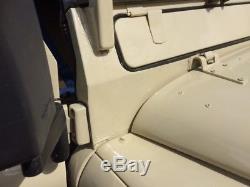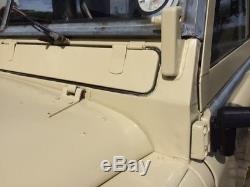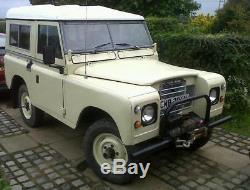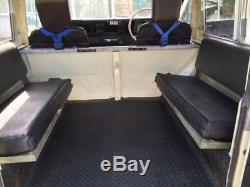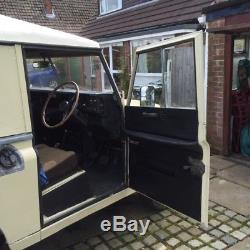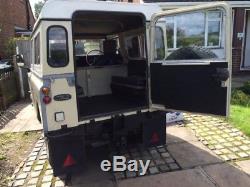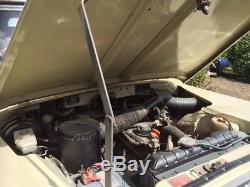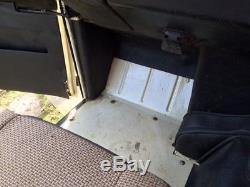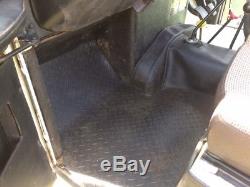 1972 Series 3 Land Rover Petrol Resto-Mod Complete. -- I bought this as a project and unlike many Landrovers, this one got done! If you don't want a showroom vehicle then this little beauty is the finished article. -- That said, these things are always able to be tweaked and improved so if youre looking for something that works as it is then here it is!
Or if you want something to tinker with and modify, heres just the thing. I like it the way it is and Ive done a lot to get it back to original. It was a dreadful colour when I bought it so I took the time to get all the overspray off the galvanised sections before repainting it the proper Landrover Limestone Beige (Its original colour) and the roof too! --- Ive had it since May 2011 --- MILEAGE IS SORT OF IRRELEVANT AS MOST OF THIS LANDROVER IS NEW! MOT till Sept 2018 and it will fly through the MOT as it has the past six years.
Its done less than 3000 miles since Ive owned it. -- Engine and Gearbox --- --- --- --- This is a very quiet series 3, trust me.
I've had people ask if the engine was running!!! You can actually have a normal conversation when driving at 45 mph, how many series 3 can say that??? --- I bought the 2.25 petrol engine off a guy who had it rebuilt and was going to fit it to his series 1 until he found that he needed to make lots of changes to the gearbox tunnel and bulkhead. His loss was my gain it is a 3 bearing engine. The engine pulls really well, and can cruise all day if you want it to. I generally kept to within 50 miles or so and it never gave me any trouble at all --- Carburettor has been rebuilt by me with OEM parts and it works excellently. I took it to get properly tuned once it was all running and it ticks over just fine, as well as accelerates and runs forever without a hiccup. -- The aftermarket fuel Filter changes the period look under the bonnet, but I thought it a practical precaution to keep the carburettor smooth running. I also fitted a one way fuel valve to aid with quick starting as these carburettors have a tendency to allow fuel to run back to the pump when left for a few days. It is as fuel efficient as I could make it. -- Free Wheeling Hubs so you can switch off drive to the wheels for economy --- Fairey Overdrive for economy again --- Electric fan instead of the mechanical fan as it saves fuel to only have the fan running once the engine gets to the right temperature! --- New electronic distributor is coming with the Landy, but it has properly adjusted points and plugs already fitted, with spares. They work a treat so Im happy not to mess with it just yet you could swap over the distributor if you prefer though?
--- Replaced gearbox for a reconditioned unit from an ex-military vehicle which is same in every way but not as noisy now! --- High/Low ratio works a treat --- Two wheel/four wheel drive also fully functional with no issues --- New radiator fitted --- New Fuel pump fitted --- New Alternator fitted --- Rebuilt starter motor --- New Solenoid fitted --- New Coil and HT leads and distributor cap fitted --- Exhaust was new 2 years ago but they cost buttons to replace on these old series 3.-- Brakes --- --- --- --- All brake drums and linings are new (including the transmission brake, which is seriously effective) --- Brake lines are copper, and new throughout --- Master cylinder is the later split type and I replaced all the seals within this so the brakes are great. -- All slave cylinders are new --- Axles/Steering and Suspension --- --- --- --- I have fitted new parabolic suspension all round and it is a much better ride than standard leaf springs but still looks the part. -- New standard shocks --- Bump stops were replaced but I do have one new spare thatll be included.
Ive got new strops for the rear suspension that I never fitted and never needed, but theyre there if you want to pop them on. -- Changed a couple of the U/Js that were a bit worn so theyre all good now --- All of the wheel bearings and seals are new and have been replaced so good for another 30,000 miles and more --- The swivel bearings are new top and bottom. -- Swivels are in great condition and didnt need changing. -- I have refitted leather swivel bellows to keep them standard but I used one shot grease to make sure the swivels stay well lubricated and corrosion free. -- Ive also replaced most of the track rod ends and all are in excellent condition.
-- Steering box is in great condition with no rough spots or rumbles that you get when they are worn. I even changed the steering box cover, as the old one was looking unhealthy. -- Five good wheels and tyres, spare wheel looks almost new!
Hung on the rear door and locked in place. -- Bodywork --- --- --- --- Bodywork is really good for age. A few minor marks here and there, nothing serious and it looks very very attractive for a Landy! The paintwork is great inside and out, but not concourse standard. -- Respray done with all windows out and lights removed and it has been recently freshened up with another respray --- Foot wells are solid and under sealed --- Roof has not been modified so there are no holes drilled in it at all.
It does have a few characterful bumps in it that I could have beaten out but decided they added to the character. -- Interior --- --- --- --- Got a rot free replacement seat box when I rebuilt it, so its like new.
Door cards new all round. Window channels were replaced when it was resprayed and in great condition. -- Rear sliding windows are good as new and work great, just what you need on a hot sunny day. (some spare window channels are with it too) --- New door tops and window channels. Roof liner is good and reduces noise, and insulates but is a bit incomplete and was fitted when I bought the Landy.
-- New door hinges all round three years ago. -- Stainless steel bolts to bonnet, hinges, light surrounds etc. -- Tank was removed, cleaned properly and painted properly before refitting. -- Body off to make sure all chassis was exposed, repaired and repainted. -- Rear quarter chassis had been replaced before I bought it and all welds are to a very high standard --- Chassis is solid! Get under there with a hammer if you want! There are repairs, but all done very well and it just passed the MOT. -- New door mirrors fitted as wing mirrors on it were just plain ugly! --- Series seats fitted, cloth rather than plastic as it was never going to get muddy or wet while I owned it. -- Cubby box is a nice touch and has cup holders --- CD/radio fitted and looks at home! Nice speakers that are unobtrusive. -- USB and cigar socket fitted (OK, these are clearly new but they are very handy) --- Seat belts were on it when I bought it so got used to them but they are 3-point harness seatbelt and easy enough to change I rarely use them as I stay very local and live in a rural areaso people tend not to notice. -- Back bench seats were added by me and really not been used but look great! Easy to take out if you prefer to have the space for carrying cargo instead of people --- There is quality fitted insulation to seat box, bulkhead and gearbox tunnel as well as carpet under cubby box and seats to help keep warm in the winter and keep noise down and it works really well!
--- Neoprene and rubber heavy duty fitted carpets keeps noise out, heat in and makes the front look complete. -- Spares --- --- --- --- Original bumper bought to return to complete the original look but not fitted.
It has an aftermarket bumper fitted with a winch, but more of that later. -- 5 x Mud Terrain tyres. Grizzly Claw, loads of tread and when I bought the Landy one of them had never been used.
Ive started to paint these to match the Limestone Beige and lots of paint to finish them as required. Aftermarket wheels that are OK but just not my style so never finished painting them.
Great if you want to do some green laning or something more adventurous. -- Paint Limestone beige in 2 x aerosols and about ¾ Litre for touch ups if you have your own gun/compressor.
-- Body panel that goes in front of the radiator panel for when you remove the winch. It needs painting up but its in great condition.
-- Alternator working and was fitted when I bought it. Fitted a new one when it was rebuilt.
I rebuilt the one that was fitted with new brushes etc. So this one is tried and tested and a good spare. -- Headlights x 2 sealed beam units. --- Indicators one complete and lots of spare lenses. -- Fuses, Bulbs aplenty --- Gaskets --- Oil seals for axles, bought as spares but clearly not needed or fitted. -- Additional features and freebies --- --- --- Spare (NEW) heater radiator that I was going to fit before winter.
This was bought new by me and is adjustable (if you know what a Bates hitch is, then I didnt need to say that last bit). Works a treat and in great condition. -- Tow bar and electrics that all work just fine.
Hard wired in to the original Landrover wiring points using Landrover connections. -- It has a winch fitted. It says something crazy like 4000kg capacity and it has a perfect condition cable fitted, so its clearly an expensive one when new!
Works a treat and Ive used it a few times to move yachts and horse trailers that were stuck. I have also used it to pull some fairly sizeable tree roots out and it didnt even slow down! --- Tailgate Ive stripped this ready for paint but its all there and yours to fit if you wish. I bought new galvanised hinges for this and theyve never been fitted. -- Sticks this Landy comes fully Kitted! It has a full set of sticks in case you want to go soft top for the summer or permanently! --- Canvas Yes it has a full canvas too. Stored in my warm garage and rot free, but it does have two small tears in it that are easily repaired. -- Bottle Jack looks like an original jack that came with it --- Farm Jack this is what I use when lifting it. These things are great and once you know how to use it youll be impressed with what it lifts! -- Hub nut socket these things are invaluable! --- Starter handle x 2 (Ill have to find the second one but theyre both original parts) --- Spare engines. Yes, I have two spare engines too.
The first needs attention to the bearings but it has great compression and I suspect the cylinder head is in excellent condition. The second has not been run by me but I got it the same time as my gearbox and that is in great condition. It has had the rear crank oil seal removed as I wanted to see how it was fitted to replace the one on my old engine (the other spare one, above). Ive a new seal for it but never fitted it. I tested the compression when I bought it and it has great compression.
-- Door Hinges New, unpainted and galvanized. Ready to paint and fit when needed.
-- Spare clutch Borg & Beck (the best) and hardly worn at all so I kept it as a spare. -- Loads of odds and ends bought to keep as spares that I cannot remember right now, but they will all be included. Youll have lots to carry on the project if thats what you want to do!
-- -------------- I do less than 1000 miles a year in it and it really is my ongoing tinkering project that deserves a great new home! I have owned it for 6 years and have the V5 in my name and in my possession.
-- There are 8 previous owners on the logbook and it is MOT'd until September next year. -- it is listed in a couple of other places so it could sell at any time, I reserve the right to withdraw it from sale for this reason.
-- It has had hundreds of hours work put into it and much as I love it, i cant just leave it on the drive when it should be getting used summer and winter! --- you will need to get a van to take the spare engines, but i do have an engine hoist so you can load it. -- A great ready to use practical Landy or a stunning start to a personalised vehicle you can make your own. The item "Fabulous 1972 Land Rover Series 3 Tax Exempt full MOT- READ THE DETAIL" is in sale since Monday, September 11, 2017.
This item is in the category "Cars, Motorcycles & Vehicles\Classic Cars\Land Rover". The seller is "telnbags333" and is located in Ormskirk. This item can be shipped to United Kingdom, United States, Australia.
Year: 1972
Manufacturer: Land Rover
Type: Four Wheel Drive
Doors: 3
Colour: Beige
Mileage: 55000
Engine Size: 2250
MOT Expiry: 201809
Transmission: Manual
Fuel: Petrol
Drive Side: Right-hand drive
Safety Features: 4-Wheel Drive
In-Car Audio: CD Player