Land Rover Series 1 107 inch 1955 1956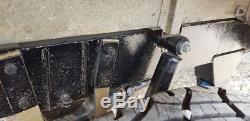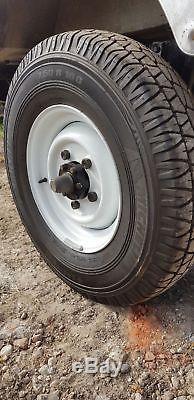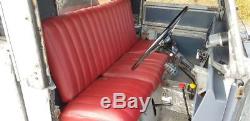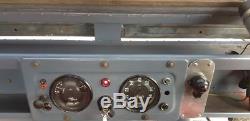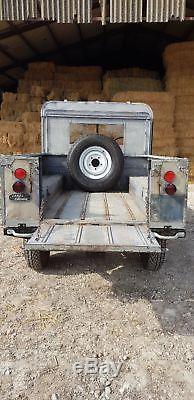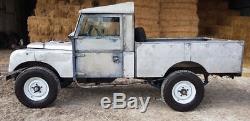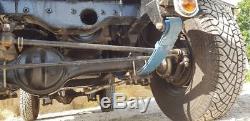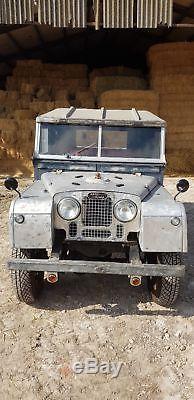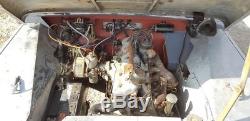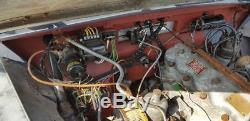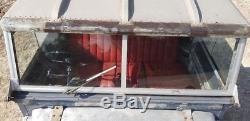 1956 Model Year chassis No. 782 built late summer 1955. V5C registration document states date of manufacture as 1956, First date of registration December 1984. 3letters and 3numbers age related registration (transferable). New period number plates being manufactured in correct style for circa 1950's at the moment hence reason for no registration plates showing in the photos. Number of former registered keepers is 4. This Land-Rover has undergone a Major rebuild in recent years by the previous owner (see detailed list below). It is kept in Dry Storage and other than starting it and driving it about on private land from time to time I have done little to it other than basic fluid and service checks.
The previous owner had a large collection and detailed knowledge of early Land-Rover's. This 107 was completely dismantled to it's component parts and built back up again taking a couple of years (he was retired so had the time unlike most of us). He used it only occasionally as he had plenty of early Land-Rover's to chose from.
I would guess it has only done 500 miles or so on sunny days since being rebuilt. The vehicle is mechanically and structurally very healthy with NO RUST problems. Starts, stops and drives well.
It has been altered from its original spec "SO may not be one for the purists of the model" but it retains its 1950's character and it is certainly very usable as a working vehicle or one just to have a bit of fun with. The changes inccorperated into the rebuild were ENGINE, REAR AXLE, FRONT AXLE, ROAD SPRINGS. All of which you could change back to standard if you wanted too. Original Chassis Frame shot blasted, chassis outriggers replaced where required, chassis then etch primed and painted Gloss Black. Replacement New Bulkhead from Dale Radford "Radfords Bulkhead" Series one LR parts supplier.
Restored steering wheel and center boss, new steering relay and steering ball joints. New brake master cylinder, Wheel cylinders, Brake reservoir and all metal brake pipes and flexible brake hoses. New fuel tank, Fuel pump and metal fuel pipes.
Rebuilt series 2 / 2a type. Swivel housings all rebuilt with new parts. Rebuilt series 2a / 3 Salisbury heavy duty type (much stronger and simpler to maintain than the original type). Complete new 107 system altered at the front to fit replacement engine. This is a 2625cc 6cyl petrol engine of the same Inlet Over Exhaust Rover design as the original Rover 2000cc 4cyl petrol that was originally fitted to the 107.
The engine is a 1955 engine (the same age as the 107) and was Originally fitted in a ROVER 90 P4 model. This engine has been cleaned and painted with a New water pump, starter motor, dynamo, fan belt and other minor items being replaced. I do not know if any internal overhaul was done. It starts well makes NO unhappy noises and seems to perform as it should. THE V5C STILL HAS "PETROL 2000cc" on it so you could change the engine back to standard if you wanted to??
A new all Aluminium welded radiator specially made to fit the 107 grill panel and meet the needs of the 6cyl engine. Not a cheap job when it was made.
Original Series 1 gearbox and transferbox fitted, functions correctly. The following items are all new Autosparks wiring loom fitted, Regulator box, Fuel pump, Headlamps, Front side lights, Stop / Tail lights, Complete indicator light system, Horn, instrument gauges and warning lights. A full set of 5 NEW tubeless steel wheel rims and 750 x 16 Radial Michelin tyre's as fitted to the last of the Land Rover Defender 110's. The steering is nice and light to operate, even when stationary.
FRONT & REAR road springs have been replaced with the Parabolic type. All 4 shock absorbers are new as are the rear axle straps. All body panels are the original un-restored items, overall the body work is very straight for a utility working land rover and looks remarkable good for a 63 year old vehicle.
The only panel that needs repairing or replacing is the OUTER front wing skin on the passenger side due to a split / crack. As listed above the notoriously prone to rusting away to nothing steel Bulkhead has been replaced with a new item from Radfords Bulkheads. This 107 is not your average mechanically worn out and rusty barn find needing the next 5 years of your spare time and Thousands of pounds of parts needed to bring it back to life. I would recommend the new owner carries out or gets done by a knowledgeable mechanic the basic safety checks as I can not vouch for the quality of the previous works, it all looks to be done to a high standard. Not concourse but a good bases for the next enthusiastic owner to do slight alterations and improvements as they see fit. All sensible questions will be answered. I have been as accurate as I can be with my description and the photos should give a warts and all overview of the 107. Thank you for taking the time to read my listing. It has taken 10 times as long to write. It is, and has been for the last few years a fast rising market for the sale prices on Early Land-Rovers, and this 107 is a cheap way of entering into the ownership of a Series One Land-Rover for fun or light work without having to worry about the gleaming perfect paintwork and immaculate body panels. But please make it a sensible offer! We are all wise to this game and the market is a strong one for the sellers of Series One Land Rovers. The item "Land Rover Series 1 107 inch 1955 1956" is in sale since Thursday, September 6, 2018. This item is in the category "Cars, Motorcycles & Vehicles\Classic Cars\Land Rover".
The seller is "arctic-parker" and is located in Petersfield. This item can be shipped to United Kingdom, United States, Australia.
Year: 1955
Manufacturer: Land Rover
Model: Series I
Body Type: Pickup
Colour: Blue