Land Rover Series 3 Dormobile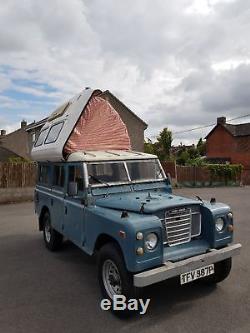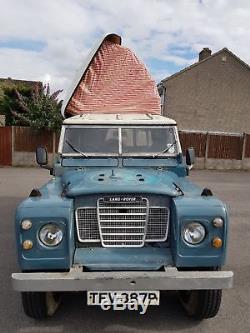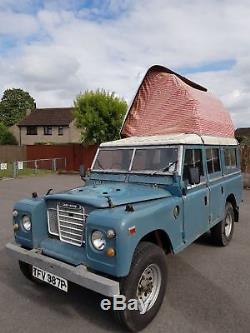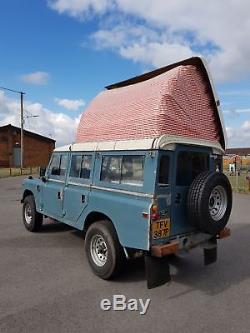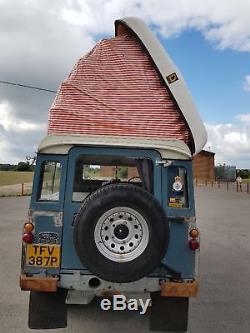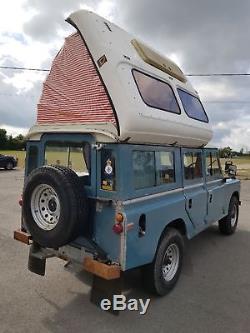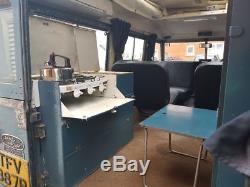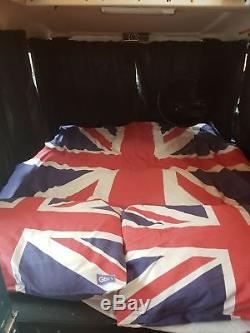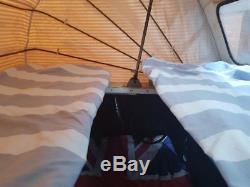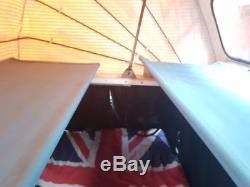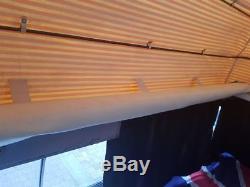 Tess, (of the Dormobiles) is a 1975 Series 3 Land Rover with a galvanised 109 inch chassis, called a 109 or Long Wheel Base. She has the increasingly rare straight 6 cylinder, 2.6 litre petrol engine which has just been overhauled so runs like a Swiss watch now. This has had new bearings, valves, gaskets and piston, so its good for another 42 years like the chassis.
So, for those who dont know about the conversion, here is the short version? Tess can accommodate 4 passengers, each with their own seats.
The Dormatic seats are a triumph in innovation, as they all fold flat to make a large bed or 2 singles downstairs. There are 2 new bunks fitted in the roof space which can sleep an adult each in a canvas sling. The drivers seat has a rip in it, which is covered over.
To the rear, there is small metal wardrobe with mirror, and a rack for water containers. At the bottom of the wardrobe is a folding seat/step. The seat is handy for sitting down while cooking.
Across the vehicle under a folding splash back is a small twin burner enamel, fitted stove, with a grill underneath. This is mounted on a fitted locker, handy for storing tins etc.
To the right, under another folding splash back is a sink which drains outside behind the rear wheel. Above the sink is a small locker which I use to keep condiments in. There are curtains fitted throughout, which while not original and have faded, do give privacy.
On the rear door is the storage for the table, which when in use fits to the window on the passenger side. Here again, the genius of the Dormatic seats comes into its own, why spin a seat like a VW, why not flip it over on its end so it faces backwards? Dormobiles have the bulkhead behind the front seats removed to allow for this set up. The pop up roof is original red candy stripe and has been patched. It is slightly faded, but is water tight. The mechanism for the roof is showing signs of some light surface corrosion, but is perfectly ok. The fibreglass roof contains two fixed windows and a clear opening plastic vent, which is yellowed, but works fine.
The fibreglass roof is in amazingly good condition on the outside with a new edge seal fitted around it 2 years ago. The inside could do with lining to tidy it up a little, but is in its original condition with no cracks, crazing or damage. Also, the interior panels could do with renewing, but being fibreboard covered in material, this would be an opportunity to brighten it up and personalise the interior.
Here is where Tess either shines or lets herself down, depending on your view. If you subscribe to Land Rovers should be shiny and straight, you probably would be better looking for Range Rover Evoque and a tent. If however, you believe Land Rovers should show their scars, Tess excels. The marine Blue paint has worn away to a lovely patina. In fact, I believe its trendy in VW circles to have a Rat look, which people pay thousands to achieve. Tess paint has worn away from being exposed to the elements for the last 42 years, so looks the part. Previous owners have patched up parts in the wrong blue, which just adds to her charm I think, but a new owner could always re-spray her. There is small crease in the rear nearside wing, but nothing a decent panel beater couldnt resolve. There is also a thing scratch on the offside rear wing.
Apart from that, all the panels and doors are straight. The bulkhead, a failing on newer Land Rovers is starting show its age with some light corrosion showing through but its not patched or welded. It is recoverable being made of thicker gauge metal than newer models. The bonnet is the 1970s De-lux option and has the fittings for the ubiquitous spare wheel. On the back, a swing away spare wheel carrier has been fitted to take the strain off the back door and stop the door from sagging.
New door seals all round are included in the sale as the existing ones are starting to perish. The doors are also starting to show age with some corrosion, but as stock land rover items and lets not forget, Tess is 42 years old. The engine is the bullet proof 2.6litre straight 6 petrol, derived from the 3 litre Rover unit of the 60/70s. This gives her a gorgeous exhaust note, and while not displaying much in the horse department, 90bhp at new, she has plenty of torque.
All this grunt is transmitted through the standard Land Rover 4 speed gearbox, with selectable 2 or 4 wheel drive, high and low ration box and the legendary and much loved Fairey overdrive. Free wheeling hubs are fitted on the front wheels as well. This gives Tess the ability to keep up with modern traffic and even overtake. Dont be put off by having 4 gear levers; it really is quite easy once to know the colour codes. The front wheels have freewheeling hubs fitted to help with the mpg, which at 26mpg, wont break any records, but its about smiles per gallon with Tess.
The Stromberg carburettor was sent away for work to a specialist, one of only 3 in the country I was told, and they are all retired so it was a slow process. The engine bores have been checked, new bearings/shells fitted, new valves, new piston rings and piston after a hole was found in one. Tess can now safely run on unleaded petrol, so no need to mess with additives. The oil bath air filter has been removed and a K&N has been fitted.
The asthmatic heater fan has also been replaced, badly, with what looks like a bilge blower, so you do get a flow of air to the cab. Both of these could be removed and original items sourced and fitted for the purist.
A huge roof rack is included which fits to the cab and front bumper, which is handy as the original wheels and tyres are also included in the sale for the purist. Please note that the original wheels are not fitted, the tyres are perished and the wheels could do with refurbishment, but they are there for originality. Underneath, there is galvanised chassis, recent renovation of the front axle, Rocky Mountain parabolic springs and polybushes and Modular wheels with excellent Cooper Discoverer STT tyres fitted. There are also locking wheel nuts. The running gear is in tip top condition, which still makes Tess a very capable off roader.
No electric wizardry, just select the correct transmission set up, point with the large original steering wheel and let the smooth engine carry over, under or through the obstacle. Tess is in no way perfect. She has a fading beauty which with a little care and renovation over the winter would bring her back to her full glory.
There is no better way to travel the country on a warm summers day with the front vents open, the window slid forward with your elbow out, listening to that glorious engine work while keeping an eye out for fellow Land Rover owners, who will always point, wave and smile at you. And when you reach your destination, pop up the roof, turn on the gas and have a camp and cup of tea all set in 5 minutes. Tess comes with some history and a pile of receipts.
Carawagons outnumber Dormobiles 3 to 1, but being one of only 83 Series 3s makes Tess a very rare and special to Land Rover and Land Rover History. These were Series 2, so not as rare as Series 3. I would rather sell her to an enthusiast who will look after her, use her as a camper and add value to her than see and not chop her up for running. I'm not interested in swapping, part exchanging or breaking.
The item "Land Rover Series 3 Dormobile" is in sale since Friday, August 31, 2018. This item is in the category "Cars, Motorcycles & Vehicles\Classic Cars\Land Rover". The seller is "cwkbuffer" and is located in Templecombe.
This item can't be shipped, the buyer must pick up the item.
Year: 1975
Manufacturer: Land Rover
Model: Series 3
Body Type: Four Wheel Drive
Doors: 5
Colour: Blue
Engine Size: 2600
Modified Item: No
Transmission: Manual
Fuel: Petrol
Seats: 4
Drive Side: Right-hand drive