Land Rover series project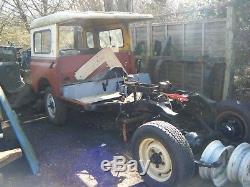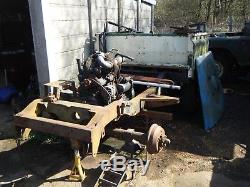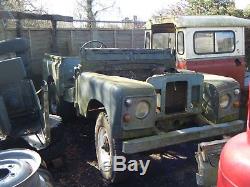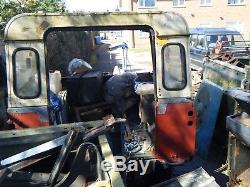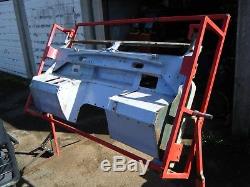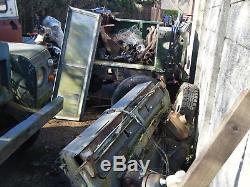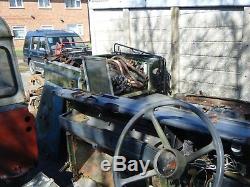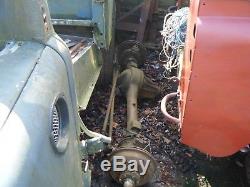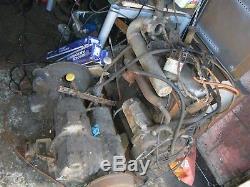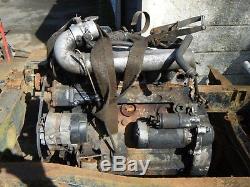 Three Land rover series 3 short wheel base vehicles. I have a NIMBY snowflake for a neighbour who is causing me a lot of financial and mental stress. To relieve this stress I have decided to sell off all three project landies. They are Red, Blue and Green. 1970's SWB Diesel (without reg).
2 Axles (front and rear are complete but need rebuilding). 5 Bulkhead (Severe rust in usual areas). 6 Seatbox (Needs a clean). 7 Rear tub (Came from BLUE - Needs serious work).
8 Roof (Is damaged but repairable - no side panels). Overall inspection would suggest this should be used as a breaker (for spares or repair). 1979, T reg, SWB, Diesel, truck cab (with V5). Came as a complete (albeit knackered farmers truck) vehicle. 1 Chassis Rear half has been repaired with new cross member. 2 Axle (Rear) (Fully rebuilt - bearings, brakes, seals etc). 3 Axle (front) (Needs rebuilding - Has now been disassembled ready for rebuild). 4 Leaf springs (rear) (fully refurbished with new shocks). 5 Leaf springs (front) (Needs refurbishing).
6 Exhaust pipe (Full system in full working good order). 7 Engine (Diesel) (Full engine in need of rebuild). 8 Gearbox (In need of full rebuild). 9 Bulkhead Still complete but in need of complete rebuild (I have got spare parts for it).
11 Rear tub (Needs a firm hammer). 12 Roof, doors, bonnet, radiator panel (Need work).
13 (All other parts need work). 14 Gearbox tunnel (3 segments - ready for paint).
15 Wings (need replacing or serious repair). 16 Fuel tank (Needs work). 17 Foot pedals (In need of refurbishing). 1972 (registered in 1982) X reg, SWB, petrol, hardtop (with V5). 2 Axle (front and rear) (completely rebuilt).
3 Exhaust (Full system in full good working order). 4 Tub (Exterior ready to paint - Interior was going to be carpeted). 5 Side panels (Need a clean, possibly paint). 6 Roof (Needs a clean, possibly paint). 7 Seatbox (Full usable order, stripped of accessories - ready for paint).
8 Gearbox tunnel (three segments - ready for paint). 10 Wings (Ex-military ones bought as temporary replacements until good civilian ones come along).
11 Bonnet (Waiting for sand and paint). 12 Radiator grill Needs sanding down and painting - currently on Green (as is the bonnet).
13 Leaf springs (front and rear) (fully refurbished with new shocks)(ready to fit to chassis). 15 Engine complete - in need of complete rebuild. 16 Gearbox (completely rebuilt - clutch shaft has gotten rusty whilst outside - use a brillo pad).
17 Wiring loom rear is new, bulkhead and engine are salvageable. 18 Fuel tank (Fully working, painted and fitted). 19 Hand brake (Fully rebuilt and fitted).
20 Seats VGC base (not deluxe) base and top - left and right (not middle) with all mounting parts. 21 Sound proofing I have a unused packet of sound proofing for the cab (in hessian). 1 Bulkhead X2 Series 3, type 2 (repairable) and Defender 300 tdi (knackered for spares). 2 Wheels (31 wheels and tyres, You can make 25 good wheels if you have a tyre machine). 3 Axle X4 (Front) Series 3 in need of complete rebuild - three of which have been disassembled for storage purposes. 4 Engine (Diesel) Complete but with possible crack in block (not confirmed as I haven't started on the engines yet). 5 Engine (Petrol) (Spare block and sump - can be rebuilt). 6 Chassis (LWB front 3/4, Salvageable). 7 Chassis (SWB - Broken - spares only).
8 Exhaust system X4 Middle and back - can be wire wheeled and painted with VHT (very high temperature) paint. 9 Leaf springs (Probably a full set plus one or two extra). 10 Gaskets, seals, bearings, brake shoes, wheel cylinders (I have lots of spares).
11 Doors (last count: 6 OSF & 5 NSF). 12 Fuel tanks X2 (possibly repairable depending if you can get a pressure washer inside the tank). Can I build two complete vehicles....
Would I need any parts to finish both vehicles.... A lot of time is spent cleaning and preparing the little bits, so If I haven't mentioned anything such as Do you have the NSR dohicky thingamabob? Do I have the time to do this? If you win this, you will need three trailers and a large box van. I will help with loading but I won't help with sorting - If you arrive and need me to prove a certain item is here, it will take time!
You will get two V5 forms and all my receipts and a used Haynes manual you're not getting the good one... Look at the photos and read the description before contacting me with queries or questions. 07 73 33 87 52 5.
The item "Land Rover series project" is in sale since Thursday, April 05, 2018. This item is in the category "Cars, Motorcycles & Vehicles\Classic Cars\Land Rover". The seller is "pinkoscar2" and is located in Farnborough Park. This item can be shipped to United Kingdom.