Land Rover Defender 15 Wood Rim Steering Wheel 48 Spline Fitting Boss Horn Kit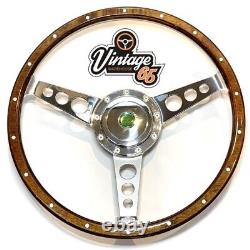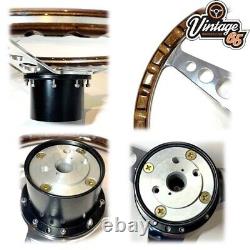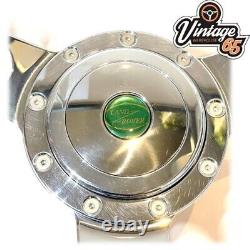 Vintage Warehouse 65 Classic Chrome Steering & Wheel Boss Kit. Here we have a Stunning Classic Style Riveted Wood rim and Polished Alloy Steering Wheel Kit. The perfect classic upgrade for your Classic Land Rover Defender. Using the Standard 3/4 18.5mm 48 Spline Steering Column. A Stunning Classic Style 15 Wood rim Wheel.
Tailored Car Specific Steering Wheel Boss Kit. Fitting Hex Bolts and Nylock Nuts. Polished billet Alloy center with LR Badge. Now for the technical bit, please read and let us know which fitting kit you need as there are two options to choose from - details below please read. You will need to tell us which you require when ordering, if we do not hear from you we will send the most popular as default which is the 48 spline kit Land Rover 48 Spline Boss Kit 48 Spline Boss will fit: All Defenders from 1993 to 1998 or standard specification vehicles from 1998 to 2008 however please note that it will not fit XS Pack defenders from 1998 to 2007 and will fit all Defenders from 2009 to Sept 2014 and will not fit 2015 models It will also fit the solid rim & spoke later type Series IIA and Series III steering wheel column: Will also fit all early type Discovery, Range Rover that do NOT have airbags. Land Rover 36 Spline Boss Kit 36 Spline Boss will fit: Fits all County Specification and all XS specification vehicles from 1998 to 2007. And will NOT fit any Defenders from 2008 onwards. Can also be fitted to all early type Discovery, Range Rover that do NOT have airbags. We can now do 2015 onwards Defender model with Airbags, please contact for details this is not it.
Please note we have this package in 13" or 14" and 16 versions if you prefer and we are happy to build a kit just for you.