Land Rover DISCOVERY 1 / 200 series V8 / 200tdi 90-94 / SNORKEL VC34LR0400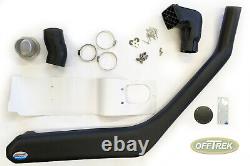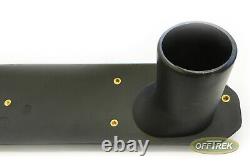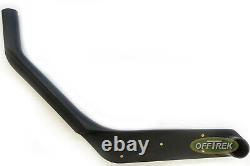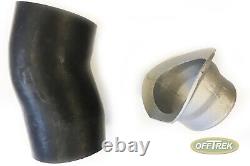 Land Rover DISCOVERY 1 Snorkel / 200 series / Raised Air Intake. Minor mods required for adaptation for Diesel engine 200Tdi / We can advise - message us. Note if you require later Discovery 1 (from 1994>) snorkel RAI we have both non ABS & ABS version, see separate listings. Ideal for wading, dusty environments and to make your vehicle stand out from the crowd. Excellent value & quality, manufactured from the highest quality thermoplastic materials.
Comes complete with fitting kit / Template / Instructions are available these can be emailed. We recommend you browse the web and view'fitting' videos can be found on'You Tube' or written instructions with helpful images can be found on vehicle Forums - browse the internet. If you still require assistance we can usually help. PLEASE USE A QUALIFIED MECHANIC TO FIT THE SNORKEL IF YOU ARE NOT CONFIDENT IN YOUR OWN ABILITY TO FIT THIS PRODUCT - IT IS THE RESPONSIBILITY OF THE INSTALLER TO VERIFY ALL COMPONENTS ARE CORRECT BEFORE STARTING THE INSTALLATION PROCEDURE!! WE WILL NOT BE HELD RESPONSIBLE IF YOU FAIL TO INSTALL THE SNORKEL SYSTEM CORRECTLY.
CHECK SNORKEL BODY AGAINST THE VEHICLE TO ENSURE IT IS CORRECT BEFORE BEGINNING INSTALLATION. Are a vehicle accessory company based in Nottinghamshire trading since 2001. We are a Snorkel / Raised air intake specialist but also sell other useful and affordable 4x4 / Off-road / expedition and camping equipments.
UK Isles, Northern Ireland, Highlands, Channel Islands ORDERS. Also note the transit time to these locations is typically 2-3 days. We can usually offer a worldwide service, but there are certain countries we will not despatch to. Note that OFFTREK are not responsible for any additional charges generated by the country of destination. By placing an order with us you are accepting these terms. We welcome UK & INTERNATIONAL TRADE enquiries!