Land Rover Forward Control F/C Series IIb 2B 1967 6cyl Chassis No. 75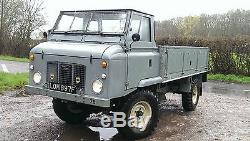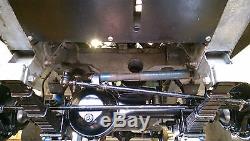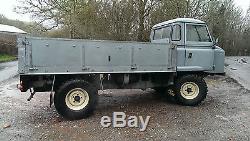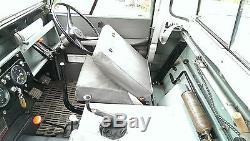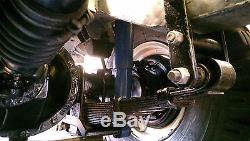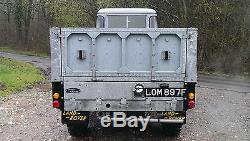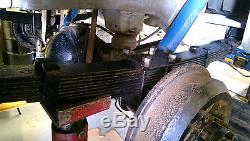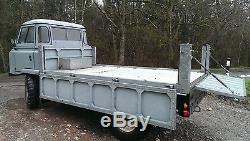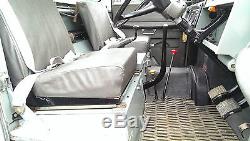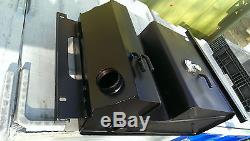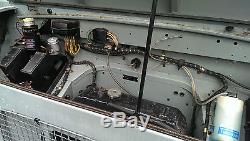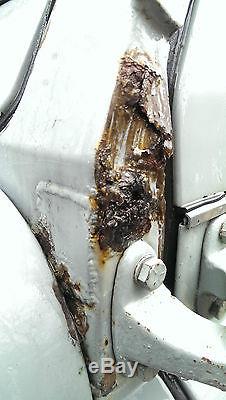 110 inch Forward Control IIb. In February 1995 as a non-runner with its engine out and in the rear load bed. As the vehicle turned out to be such an early chassis number 75. ORIGINALITY would become the key driving force behind all of the works needed to bring it back into being as a working, respectable, and smart example of this unusual model in the Land-Rover line up. (the only 3 non- standard areas incorporated into the restoration were: Extruded aluminium door tops, a genuine Land-Rover optional extras electrically heated windscreen kit & all 3 original chassis sections were hot zinc dipped galvanized after being repaired).
As were all body cappings & fittings as well as all of the newly made rear load bed floor members. The IIB chassis number 75 was originally supplied by'W. It then fell into the hands of various users for forestry work in the 1980s. And with the price of fuel getting expensive the 6cyl Rover IOE engine was not commercially viable to run anymore, so the IIB was parked up and the engine removed awaiting a Diesel alternative. Hence the original engine in the back when I found it.
After completely dismantling and assessing the IIb, The areas of concern were few but major! The main chassis (it has main, top, and front extension chassis) required extensive repairs to the rear half.
The front ENV axle had a smashed half shaft; the fuel tank had as many holes in it as the chassis. And the non-standard structure of the Cab body work was very weak and corroded!!! All these areas are unique to the IIB and proved time consuming and at times costly to restore. This was in addition to all the other usual areas on an old Land-Rover that need to be sorted out after years of decay and neglect.
However once you have started and committed yourself You have no choice but to dig deep and push on to the end. I have approximately 280 film photographs of the restoration, no digital cameras back then. In that time the IIb carried a wide selection of loads for friends and other projects, Such as 3x Rolls Royce B81 engines (500kg each) this was the heaviest load carried in one go, it took 3hrs to do a 90 mile journey on A and B roads. Other items, Such as sets of 14.00 x 20 wheels for Alvis Stalwarts, 5meter lengths of 8 by 2 timber planks, 8ft x 4ft timber sheet material, and little things like a fiberglass body shell for a Bond Bug were all accomplished with out to much bother. In this time the IIb covered a total millage of 1990 miles (one thousand nine hundred and ninety miles) before being parked up and put in storage in 2007.
I recovered the IIb from dry storage in 2015 and re-commissioned it to gain a new MOT with the view in mind to put it up for sale. Works required to achieve this were: New fuel tank made to original spec, 2.
It is for the next owner to carry on with this task of keeping a rarely seen ORIGINAL Land-Rover 110inch Forward Control IIb model in working order. For people to talk about & point at saying things like, Thats a strange looking Land-Rover. Does it drink a lot of petrol? Unfortunately the bulkhead has started to rust through in the area of the top passenger door hinge (see photo) this is the only area that needs repair.
(The door hinge is secure and fully usable) as this Full Restoration was completed in 2001. The then newly sprayed paintwork in the original colour of Mid Grey has dulled over the last 15 years.
The front wheel steps that bolt on to the front wheel studs were stolen a few years ago, I have found one replacement item that I will let go with the IIb. The rear load area can be converted into a flatbed by simply undoing 4 pinch bolts and lifting out the corner posts. The 2 drop sides and rear tail gate can then be simply removed. ALL the major components in the Land-Rover are the very same parts it left the production line with back in 1967. The Front & Rear axels are the original ENV type and were completely rebuilt.
The Gearbox was fully rebuilt with new bearings, bushes and seals, and gears where needed. The same exacting standard of work was carried out on the all synchromesh transferbox. This was only fitted to the Forward Control and 1ton Bonneted Control models, as it allowed a fully laddened vehicle to start off in Low range and then change up into High range effortlessly and save the need to crunch the transferbox gears or slip the clutch as per a standard series land rover model of this time.
The engine was fully stripped down and bores were honed and new rings fitted as well as big end and main bearings, oil seals and gaskets etc. The Original SU carburettor (only used on the first few months of IIb production) had a full overhaul kit fitted as did the double acting electric fuel pump. A new water pump, Cooling fan bearing (this is mounted in the top chassis frame) and a new prop shaft that drives the fan from the water pump, as well as a New Old Stock Radiator and all water hoses (again all these parts being special to the IIB). Fuel tank is reproduction to the original spec and less than a year old. Original Chassis repaired and galvanized.
All the brake and clutch hydraulic components were replaced including the Clayton Dewandra remote hydraulic brake servo internal parts (major overhaul kit), Brake master cylinder CB type, Clutch master cylinder, Clutch slave cylinder and all flexible hoses and brake pipes. Wiring loom with the correct cloth outer braid was supplied by Autosparks, and all lighting was replaced with the correct items for a 1967 IIb. Steering wheel was restored by Wheelwrights. Exhaust system all New old stock parts (again special to the IIb). All Steering components overhauled or replaced as needed.
All the cab trim and seats were re-upholstered by Exmoor trim. LOM 897 F is not a bad little truck! A bit vague in the steering, and thirsty on fuel, but it will put a smile on your face when you drive it, and carrying stuff will never be so much fun. Why struggle with a Bonneted Control Land-Rover? When you can have a Forward Control model??
Thank you for taking the time to look at my listing. All the photos in this listing were taken in the last few months the vehicle is SORN the MOT expires in JUNE.
REMAINING BALANCE TO BE PAID BY BANK TRANSFER or CASH ON COLLECTION. The item "Land Rover Forward Control F/C Series IIb 2B 1967 6cyl Chassis No. 75" is in sale since Sunday, May 01, 2016. This item is in the category "Cars, Motorcycles & Vehicles\Classic Cars\Land Rover".
The seller is "arctic-parker" and is located in Hampshire. This item can be shipped to United Kingdom.
Year: 1967
Manufacturer: Land Rover
Model: Series 2b 110 inch Forward Control
Doors: 2
Colour: Mid Grey
Reg. Date: 19671109
Mileage: 1990
Engine Size: 2625
MOT Expiry: 201606
Transmission: Manual
Fuel: Petrol
Drive Side: Right-hand drive
Type: Four Wheel Drive