Land Rover Series 2a 109 LWB Station Wagon with TD Conversion & Rebuilt Gearbox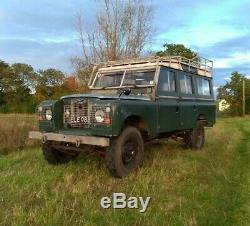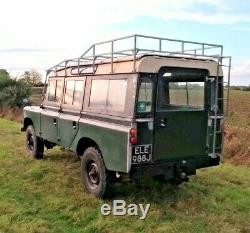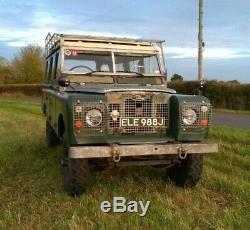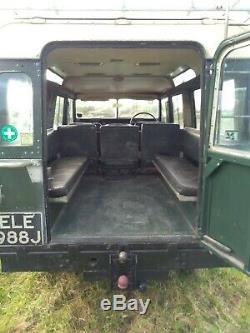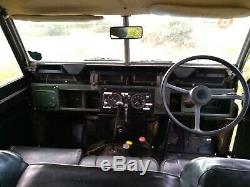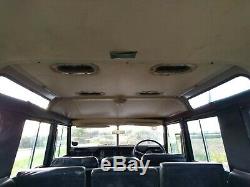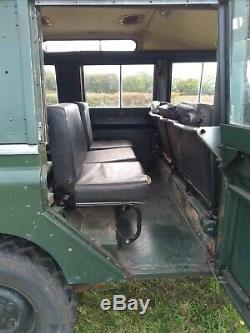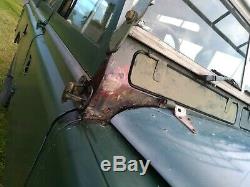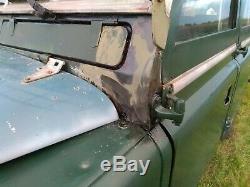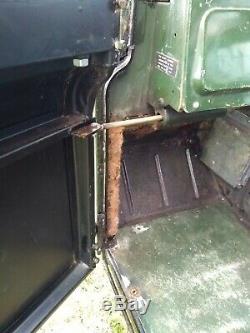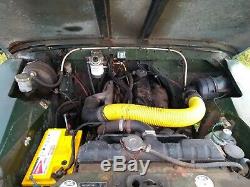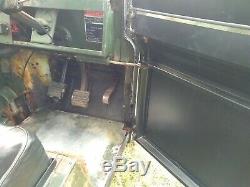 Up for sale is my lovely Series 2a. It's a 109 Station Wagon with a tropical/safari roof and room for 12 people that I've used regularly with no problems to speak of.
I hesitate to use the word'rare' as is often put onto these listings but it took me many years to track down this as it's quite true that genuine 2 and 2a LWB Station Wagons are hard to find. I've owned this one for a couple of years I think and it's never let me down. I had hoped that this would be our family camping vehicle but they don't like the fact it hasn't got a DVD player or TV screens in the headrests.
So unfortunately this gets moved higher up the list of casualties. It's certainly not perfect and had I kept it, my intention was to treat it to a rolling restoration whilst using it but I just don't have the time; and work and financial commitments mean it's not going to be done anytime soon. Another reason why it must be moved on. So, I'm sad to say that it has to go. I bought it as a non runner and have since got it on the road.
This was done by Grawall Autos of Abridge who are one of a dying breed of proper old school Land Rover garages. At the time of doing the gearbox the entire chassis area around the gearbox was cleaned up, painted and Anchor waxed. A new clutch went in also. I had intended to go around the rest of the chassis but, as I say, I've got no time. The only thing that's gone wrong since getting it on the road is a worn wiper spindle which has now been replaced.
The chassis itself is generally sound. There are some patches but my opinion is that it's a good one. The bulkhead could do with some love. I have been using it as it is but it could really do with new or repaired door pillars and top corners.
One of the vent openings needs a repair too. All areas that are remotely suspect have been treated with rust converter to prevent them getting any worse. Obviously a complete replacement would be ideal but I was going to settle for repair. The front radiator panel could do with a repair along the bottom edge but this is largely cosmetic.
Reading back, I think I'm making the bulkhead out to sound a lot worse than it is. It does need some repairs but is by no means a lost cause.
The engine is the surprise. It has a Nissan TD24 engine in it which I think is from a Nissan Urvan of the early 90's. This has a remarkably'Land Rover' like feel to it that I really love. It looks and feels right at home and seems to work perfectly with the Land Rover transfer box.
It's just as noisy as a Land Rover diesel (and my intention was to soundproof the whole vehicle) but has a lot more grunt. However, it's not got a turbo as the TD might suggest so it's not going to destroy expensive components. I had originally been looking for a series with a LR 200di in it but I'm glad I found this one instead.
It also comes with a Fairey overdrive which works very well. It's my understanding that these always whine but I wouldn't have said this one is particularly noisy. The whole set up pulls very well and you can do 65/70 if you really want to. I think the vehicle was originally a 6 cylinder (judging by the bulkhead, and rear prop) and was possibly ex military.
Since the DVLA changed the rules on finding out the history I can't be certain. It has a military rear cross member and seems to have some beefed up suspension/chassis parts but I can find no contract plate on the seat box or anywhere else. The gearbox cross member isn't a bolt in one but I'm not sure if they did that this early. It could just be that a military cross member was put on because that's what was available to the owner at some point in history.
The tropical roof has all four vents operational and the interior has most of the hard to find'luxury' trim pieces present. By this, I mostly mean the padded pieces above the windows. There is a roof rack which is included and I also have a brand new spare wheel carrier that I can throw in - the kind that hangs off of the chassis and rear tub to avoid the rear door dropping. I have a few other spares which go with it, including the sill covers which I haven't got round to fitting.
All in all this is a good honest sought after Land Rover model that can be used as it stands or treated to a full restoration. It would benefit from some attention as mentioned above but it really depends on what you want to do with it. Body and chassis are in good, not excellent condition and it's generally unmolested apart from the engine which I see as a plus point. The original engine mounts are still in place so you could put a 6 cylinder or even just a 4 cylinder back in pretty easily. You may have a completely different idea of condition than I do so I urge you to come and see it or ask me for more pictures.
I have tried to be as honest as I can without making it sound better or worse than it is but, in the end, you need to decide if this one is for you. Viewing is welcome, indeed encouraged, at CM3 1DR which is Chelmsford in Essex. I urge you to come and see it and make your own mind up.
I will be as helpful as possible if you need me to send photos of specific areas. You can even drive in in the London ULEZ zone I think as it's too old to be covered!
Ollie - 07737 047 029. The item "Land Rover Series 2a 109 LWB Station Wagon with TD Conversion & Rebuilt Gearbox" is in sale since Wednesday, October 16, 2019. This item is in the category "Cars, Motorcycles & Vehicles\Classic Cars\Land Rover". The seller is "intrepidbearco" and is located in Chelmsford. This item can't be shipped, the buyer must pick up the item.
Model: Series 2a
Colour: Green
Country/Region of Manufacture: United Kingdom
Safety Features: 4-Wheel Drive
Fuel: Diesel
Year: 1970
Exterior: Tow Bar
V5 Registration Document: Present
Manufacturer: Land Rover
Engine Size: 2400
Doors: 5
Mileage: 75000
Seats: 12
Body Type: Four Wheel Drive