Land Rover Series 2a & 3 17 Beech Wood Rim Steering Wheel + 48 Spline Boss Kit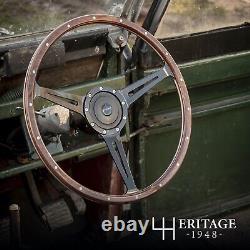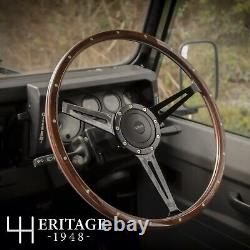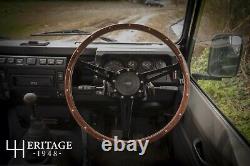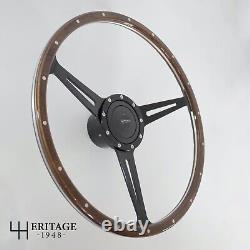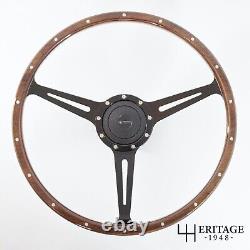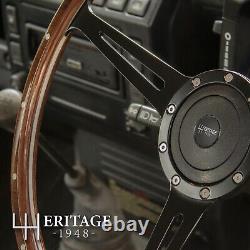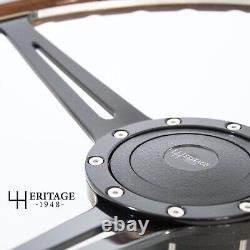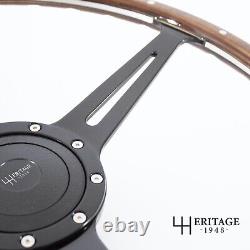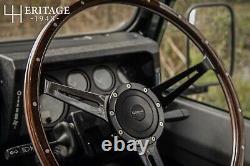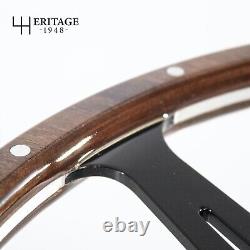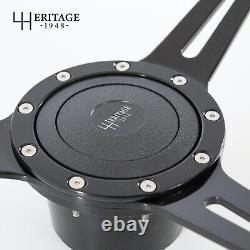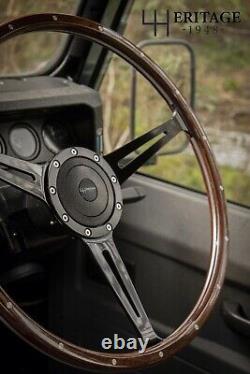 Beech Wood Rim for Series 2A & Series 3 Land Rovers. The Quantock 17 Wood Rim by Heritage 1948 is our flagship Steering Wheel. It has been developed around the classic spirt of the Land Rover and continues our uncompromising commitment to quality aftermarket parts.
With a 17 rim, the Quantock is slightly larger than our other aftermarket wheels will benefit a vehicle not fitted with power steering such as Series Land Rovers. The Satin Black Anodised Body of the Steering Wheel is forged from durable 6061 Billet Aluminium.
This is framed by a crafted Beech Wood Rim and finished off with 18 Polished Structural Metal Rivets. A Steering Wheel guaranteed to improve the interior of any Land Rover Series or Defender. Our Wheels are available individually or as a complete kit ready to install into your Defender or Land Rover Series vehicle. With a choice of either 48 or 36 spline Boss, getting the right part for you specific vehicle could not be easier. This Listing comes with a 48 Spline boss suitable for Series 2A & 3 from 1967 > 1985 Land Rover. Please note this will not fit early Series 1 & 2 Land Rovers (Pre 1967) fitted with a'pinch bolt' steering wheel. 9 hole 101mm PCD Boss fitment. From 1967 - 2016 Land Rover fitted both 36 & 48 Spline Steering Columns.
For guaranteed fitment, we would recommend removing you current wheel and counting the splines. Due to the irregular use of both the 36 & 48 spline steering column, it is not possible to determine your spline count by the year model alone.
If fitting to Series Land Rover, a simple modification may be required to attach the automatic indicator cancelling collar to your Boss. The supplied Boss are not suitable for Defender year models 2015 - 2016 or Defenders fitted with Dynamic Stability Control. This is due to a different indicator cancelling arrangement using sockets in the wheel rather than prongs. For advice on fitting your steering wheel please contact one of our team.