LAND ROVER SERIES 3 2.25 Die Complete Cylinder Head Overhaul Set DA1341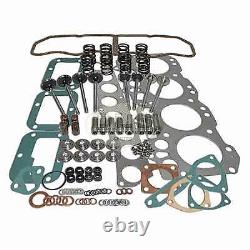 DISCOVERY 1 1989 to 1998. DISCOVERY 2 1999 to 2003. DISCOVERY 3 2005 to 2009.
DISCOVERY 4 2010 to 2016. FREELANDER 1 1996 to 2006. FREELANDER 2 2006 to 2014.
RANGE ROVER L322 2002 to 2012. RANGE ROVER L405 2013 on. TOOLS, OILS AND OTHER DIY >>.
LAND ROVER SERIES 3 2.25 Die - Complete Cylinder Head Overhaul Set DA1341. Cylinder Head Overhaul and Gasket Set. Equivalent to Land Rover DA1341 (used for reference only). Includes Valves, Valve Springs and Valve Guides. Series - 3 - 2.25 diesel models.
Bottom Engine Gasket Set 3.5V8 Carb Land Rover Series 3 and Defender (RTC3306). LAND ROVER SERIES 2 AND 3 4CYL OIL LEVEL DIPSTICK (ETC7867). Heater Valve Brass Control Tap Land Rover Series 2/2a 2.25, 2.6 88G588L. Crankshaft Thrust Washers STD 4cyl Land Rover Series 2/2a/3 (RTC2825G).
DLS is a family run business established in 1976 originally fabricating replacement chassis parts for Series Land Rover such as rear crossmembers and outriggers, moving on shortly afterwards to supplying replacement parts and accessories. Also within this initial expansion a Workshop facility was also established.
At this time, a move to more suitable premises was made from Tansley Derbyshire to not far away in Matlock. An increasing demand for affordable parts and accessories world-wide contributed to the rapid growth of DLS and again the company had to find larger premises and in 1986 moved into the current location on Water Lane Wirksworth Derbyshire. Rates do vary depending on region/country and you can access the different areas by clicking the relevant button within the item listing. For large multiple consignments upto 30kgs, the same rules above apply.
For anything over this limit you will be advised even if you have already paid for your items we will advise you that you have gone over the 30kg limit and there will be further charges that would have to be met before the despatch of goods. UK MAINLAND Flat Rate to 30kgs = FREE. PLEASE NOTE: Orders that include? Where possible, we will endeavour to offer a DDP service, in which case, no further charges should be applied.
SIZE RESTRICTIONS APPLY FOR ALL OF THE ABOVE. We often send large orders to Europe. This is not calculated per parcel.
We have many customers in USA & Canada. Ranging from private individuals to large companies. We will strive to give you the best prices and carriage quote we can. DLS will not be liable for lost or damaged items on return or labour costs incurred if replacing faulty goods. Items may then be sent back our supplier who with then undertake tests to confirm the fault.
Faulty or damaged goods will be replaced on receipt of the item with DLS (UK) Ltd only if accompanied by a valid invoice and in its original packaging. This listing is currently undergoing maintenance, we apologise for any inconvenience caused.