Land Rover Series Petrol Engine 2.5 Not 2.25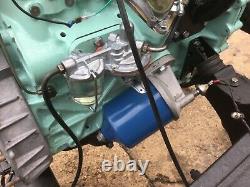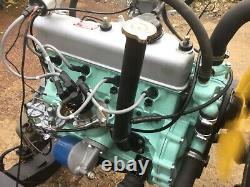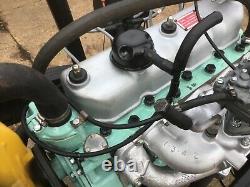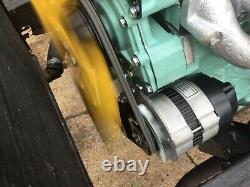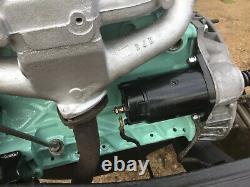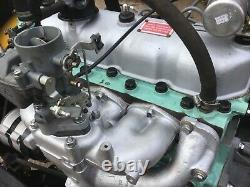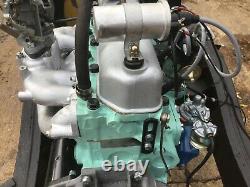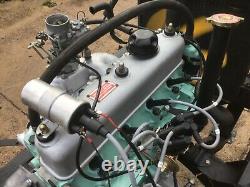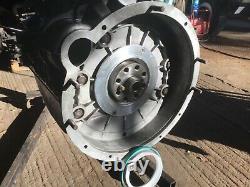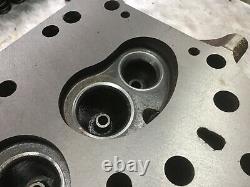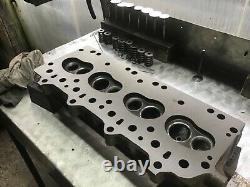 THIS IS A 2.5 ENGINE MADE TO LOOK LIKE A 2.25......... 1986/7 17H 2.5 5MB PETROL ENGINE MADE TO LOOK LIKE AN EARLY SERIES 3 ENGINE. RUNNING REALLY WELL, IN A TEST RIG WITH A RADIATOR FOR YOUR INSPECTION. FITTED WITH A SIII CLUTCH HOUSING WITH CUSTOM REAR SEAL CARRIER AND FLYWHEEL SO IT CAN TAKE A REBUILT 2 BOLT INERTIA STARTER.
THE HEAD IS AN EARLY 7:1 THAT HAS BEEN SKIMMED 100thou SO IS NOW 8:1 AND FITTED WITH UNLEADED SEATS, NEW STEM SEALS, VALVES POLISHED/LAPPED ETC. PROVISION FOR AN OTTER SWITCH, IF NEEDED, BLANKED OFF AT THE MOMENT. FITTED WITH A NEW LIFT PUMP, DISTRIBUTOR, ALTERNATOR AND A REBUILT ZENITH CARB AND SERIES MANIFOLDS.
AP RINGS, BEARINGS AND A NEW OIL PUMP HAVE REFRESHED THIS ALREADY GOOD 17H ENGINE. IF YOU WOULD LIKE IT TO LOOK A BIT MORE SIIA WITH DIFFERENT FILLER/BREATHER CAPS MAYBE EVEN A LUCAS 25D DISTRIBUTOR I CAN DO THAT ALSO. IF YOU WANTED TO GO OVER TO A DYNAMO, OR ONE OF THOSE ALTERNATORS THAT LOOKS LIKE A DYNAMO I CAN CHANGE THE MOUNTING BRACKETS ETC.
I DO HAVE A REBUILT TWIN CHOKE WEBER DMTL AND MANIFOLDS IF YOU WANTED TO GO DOWN THAT ROUTE BUT THEN YOU NEED TO DO SOME EXHAUST MODS. I HAVE LEFT THE ORIGINAL 17H ENGINE NUMBER IN PLACE AND CLEANED UP THE AREA WHERE THE NUMBER WOULD BE ON A SERIES ENGINE SO YOU COULD PUT YOUR OWN ON. THIS WILL BE AT FIRST GLANCE AN EARLY SIII ENGINE BUT INSIDE IS AN UNLEADED 8:1 5MB 2.5 ENGINE THAT WILL GO IN PLACE OF YOUR EXISTING 2.25 WITH NO MODIFICATIONS. ANY QUESTIONS OR IF YOU NEED MORE PHOTOS JUST MESSAGE ME.
THE REASON THIS HAS HAPPENED IS THAT LAST YEAR I BOUGHT SOME PARTS OFF AN OLD FELLA AND IN HIS SHED WAS THIS, SUPPOSEDLY LOW MILEAGE 98k, 2.5 ENGINE SITTING ON HIS BENCH THAT HAD THE HEAD REMOVED (UNLEADED) TO GO ONTO HIS OLD SERIES, HED GREASED THE BORES AND MADE A PLYWOOD LID FOR IT, I BOUGHT IT. THEN IM DOING A UNIT FOR AN EARLY 90/110 AND NEED A FLYWHEEL, REALLY HARD TO FIND SO NICK IT OFF THIS ONE. SO NOW I HAVE A DECENT 2.5, NO HEAD (LATE METRIC ONE NEEDED) AND NO FLYWHEEL (IMPOSSIBLE TO FIND) SO HATCHED A CUNNING PLAN......
ALWAYS WANTED TO DO A STEALTH 2.5 SO IT WAS THE PERFECT OPPORTUNITY. HAD A REAR MAIN CARRIER MADE AND A FLYWHEEL MACHINED TO TAKE THE INERTIA STARTER RING GEAR. THEN TOOK A DECENT EARLY SIII CYLINDERHEAD, HAD THAT SKIMMED, CRACK TESTED, FITTED WITH HARDENED SEATS ETC ETC. PULLED THE PISTONS, MINIMAL BORE WEAR BACKING UP THE OLD FELLAS CLAIM OF LOW MILEAGE, FITTED SOME NEW OLD STOCK AP RINGS, VANDERVELL BEARINGS AND AN OIL PUMP TO FRESHEN IT UP...... FLICKED IT UPSIDE DOWN, BLASTED OUT THE WATERWAYS IN THE BLOCK, NOT BAD IN THERE, COUPLE OF COATS OF ACID ETCH PRIMER THEN PAINTMAN ENGINE BLUE.
IT RUNS REALLY WELL BUT IF IM HONEST, IM NOT KEEN ON THE NEW CHINESE DISTRIBUTOR AND WHEN I GET TIME I WILL HAVE A DIG AROUND FOR A DECENT OLD LUCAS UNIT, PUT SOME NEW POINTS IN IT, CLEAN IT UP AND FIT IT..... I THINK IT DESERVES IT. WELL, I DID NEARLY A GRAND SOURCING THE ENGINE AND ALL THE PARTS TO DO IT.
THEN JUST OVER A GRAND ON ENGINEERING AND REBUILDING THOSE PARTS. A FEW HUNDRED ON NEW ITEMS, GASKETS, PAINT AND BITS AND BOBS. IM AT 2.5K BEFORE YOU KNOW IT, THEN I HAVE TO FACTOR IN MY 35HRS LABOUR....... SO DONT GO KICKING ME IN THE BOLLOCKS TOO HARD WILL YOU, IM PRICED ABOUT AS LOW AS I CAN GO REALLY.....
I SHOULD BE ASKING 3.5K. The item "LAND ROVER SERIES PETROL ENGINE 2.5 NOT 2.25" is in sale since Tuesday, November 2, 2021.
This item is in the category "Vehicle Parts & Accessories\Car Parts & Accessories\Engines & Engine Parts\Engines". The seller is "34junkyard34" and is located in LEIGHTON BUZZARD, Bedfordshire. This item can't be shipped, the buyer must pick up the item.