Parts Kit Oil change Auto Gearbox Meyle 300 135 1007 for BMW IVECO JAGUAR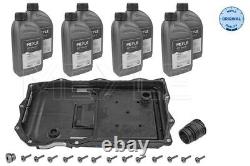 MEYLE 300 135 1007 TEILESATZ, ÖLWECHSEL-AUTOMATIKGETRIEBE FÜR BMW BMW BRILLIANC. Sind Sie absolut sicher, dass dies für Sie der richtige Teil ist? Senden Sie uns Ihre Fahrzeug-Identifizierungsnummer (VIN) und unsere hochqualifizierten Berater helfen Ihnen dabei! Wenn Sie kein Teil finden oder eine größere Menge benötigen, senden Sie uns einfach eine Nachricht, wir helfen Ihnen und lösen Ihr Problem!
24 11 5 A13 115. 24 11 7 604 960. 24 11 7 613 253. 24 11 7 624 192.
24 11 8 612 901. Getriebenummer : GA8HP45Z, Getriebenummer : GA8HP50Z, Getriebenummer : GA8HP70Z. 7 (F01, F02, F03, F04). 8 Gran Coupe (G16, F93). SDrive 20 i 1.6.
29L11 V, 35C11 V, 35S11 V, 40C11 V. 29L13 V, 35C13 V, 35S13 V, 40C13 V, 40S13 V. 29L15 V, 35S15 V, 35C15L V, 40C15L V, 50C15L V. 35C15 V, 40C15 V, 45C15 V, 50C15 V, 60C15 V, 65C15 V. 35C17 V, 35S17 V, 40C17 V, 45C17 V, 50C17 V, 60C17 V.
35C21 V, 35S21 V, 40C21 V, 45C21 V, 50C21 V. 26L11, 26L11D, 35C11D, 35S11, 40C11.
29L15 V, 35S15, 35C15L V, 40C15L V, 50C15L V. 35C15, 35C15D, 35S15, 40C15, 45C15, 50C15, 60C15,65C15... 35C17, 35C17D, 35S17, 40C17, 45C17, 50C17, 60C17, 70C17. 35C21, 35S21, 40C21, 45C21, 50C21, 60C21, 70C21. 3.0 SCV6 S AWD.
5.0 SCV8 R AWD. 5.0 SCV8 SVR / SCV8 P575 R AWD.
3.0 SCV6 400 SPORT AWD. 3.0 SCV6 400 SPORT.
5.0 SCV8 SVR / SCV8 P575 R. 2.0 D200 MHEV AWD. 5.0 SVO PROJECT 8.
3.0 SDV6 Hybrid 4x4. 2.0 D180 TD4 4x4. 2.0 D240 SD4 4x4. 2.0 P250 Si4 4x4. 2.0 P300 Si4 4x4.
3.0 P380 SCV6 4x4. 2.0 TDI (01V, 03V, 36V, UYB, UYC, UYD). 2.0 TDI AWD (02V, 04V, 37V, UYB, UYC, UYD). 2.0 TDI RWD (11V, 12V, 33V, 34V, UYB, UYC, UYD).
2.0 TDI RWD (11V, UYB, UYC). This item is in the category "Auto & Motorrad: Teile\Autoteile & Zubehör\Getriebe & Antriebstechnik\Sonstige". The seller is "maxteile_de" and is located in this country: DE. This item can be shipped worldwide.
Hersteller: MEYLE
Herstellernummer: 300 135 1007
EAN: 4040074305898
Produktart: Teilesatz, Ölwechsel-Automatikgetriebe
OE/OEM Referenznummer(n): BMW (BRILLIANCE) 24 11 5 A13 115, BMW 24 11 5 A13 115, BMW 24 11 7 604 960, BMW 24 11 7 613 253, BMW 24 11 7 624 192, BMW 24 11 8 612 901, BMW 7 604 960, BMW 8 612 901, IVECO 4257 7152, JAGUAR JDE36541, JAGUAR LR065238, LAND ROVER JDE36541, LAND ROVER LR065238, MAN 65.33118.0001
Referenznummer(n) OEM: FEBI BILSTEIN 176857, MEYLE 300 135 0007, MEYLE MOK0024, TCMATIC 105.111.0018, TCMATIC 105.111.1018, TCMATIC 105.111.2018, VAICO V20-2090, VAICO V20-2090-XXL, ZF 1087.298.365, ZF Parts 1087.298.365
Marke: MEYLE
Getriebetyp: 8HP45
Getriebeart: Getriebeautomatik 8 Gang
Herstellereinschränkung: ZF